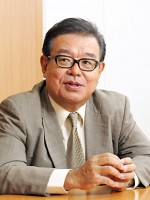 Graduated Keio University in 1979, Department of Mathematics, Faculty of Science and Technology. He received M.S. for Computer Science from Keio University in 1981, and received his Ph.D. in Computer Science, Keio University in 1987. Specialized in computer science, computer network and computer communication.
He is currently the Dean, Faculty of Environment and Information Studies,
Keio University since 2009.
Former director of WIDE project from 1988-2010.
Former Vice-President of Keio University from 2005 to 2009.
He was an Executive Director of the Keio Research Institute at SFC, Keio University from 1999 to 2005.
He is appointed as one of the advisory member of IT Strategy Headquarters established within the Cabinet of Japan from 2000 to 2009 and 2012, and the Information Security Policy Council established within the Cabinet of Japan since 2005, a member of Science Council of Japan since 2005.
A visiting professor at Tsinghua University, Beijing since September 2007. IPSJ Fellow.
1993-1995, Member of Internet Architecture Board (IAB), 1997-2000, Board of trustee of Internet Society (ISOC), 1998-2000, Board of Director of the Internet Corporation for Assigned Names and Numbers (ICANN).